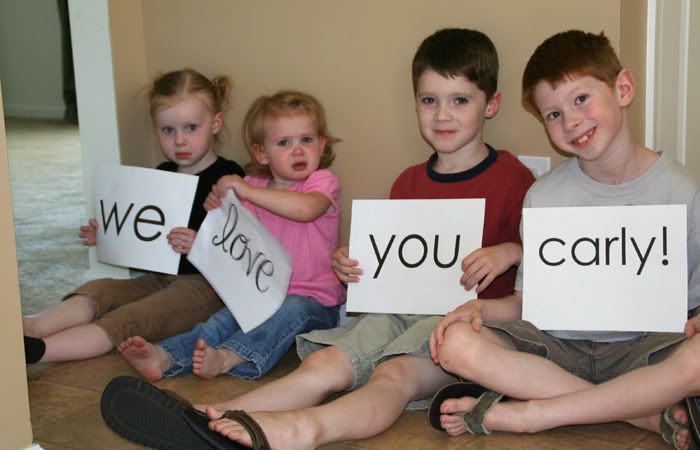 Saturday, the 16th, Carly (cameron's sister) was in a car accident in Georgia. She was there with some friends for the wedding of another friend. They had just left the temple and were on their way to the reception. They were stopped at a stop light and were rear ended by a guy who had fallen asleep. They were hit at 70 mph. Carly was in the back seat. Her hip was dislocated and she has a cut across her forehead. But the thing that was the scariest was that she had broken her neck. Luckily, it didn't affect her spinal cord and she is still able to move her arms and legs. One of the guys in the car was killed on impact.

We are so glad she is OK. Lindsay (cameron's sister) flew out to be with her at the hospital. She has taken such good care of Carly and is always calling with updates on how she is doing. The stake out in Macon, GA has also been very good about taking care of all who were involved. When the accident happened, the EQ president who was at the wedding was with them all in the hospital and stayed for quite awhile to relay anything to the families until they could get there.

One of my favorite stories of Carly comes from one of the ER nurses who came to find Carly a few days later. She was telling Lindsay that being an ER nurse is really hard sometimes because most people who come through there are hurt and angry. For a lot of people swearing is a way to express their pain, fear and anger. So she hears swearing all day long, every day she is there. When Carly was in there, the nurse said that out of nowhere she heard this beautiful voice start signing Nearer My God to Thee. (Carly is an awesome singer!) She said that the mood in the ER completely changed. There was even a lady in there who said that she hasn't been to church in 10 years, but because of Carly and the spirit that she brought, she was going to go back. I guess Carly even started taking requests for songs...until they had to knock her out and put her hip back in place. Carly was asked if she remembered any of that and she didn't. She only remembered thinking of what she could do to handle the pain and singing was the best answer.

We are so grateful she is OK! She has a long recovery ahead of her, but she has the best attitude and will make the best of it.


We are so lucky to have you as a sister, sister-in-law and aunt!
Get better soon!