In two thousand and nine, Stephanie did nothing except sleep for a really long time.

So really, Chris and I both know how to make good use of our time. I sleep in. He discovers North America.

But hey, in my defense, it was REALLY cold today, so school was canceled, perfect for sleeping late.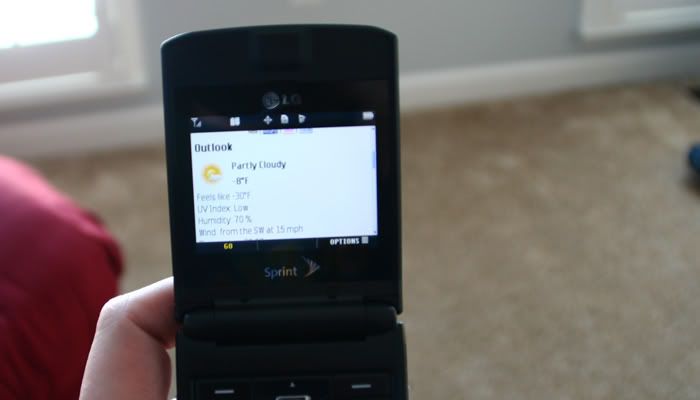 Can you see those numbers. Temp is -8, but it feels like -30 with 70% humidity. Who lives like this?

I usually can't sleep in. Once I'm awake, that's it, I'm up. Cameron and I even trade every Saturday who gets to sleep in. He does very well at it. I'm usually up by 8 - 8:30. That's even with me trying to stay there as long as I can so I don't get the "that's it? That's not even sleeping in" lecture.


And I think it's against the law or something to set an alarm clock on days off from school. Well if it's not, it should be, don't you think?
So I didn't get out of bed until 10:30 today, and can I say, it was won.der.ful.
I did get up at 8 when Cameron was leaving for work. I came down for morning scripture study and family prayer. But, that bed was calling to me, so I went back up. Maren was still in bed, why couldn't I be.

I felt a tap on my back about 8:45, Riley was informing me that Maren was now awake. She said that she would get her out. Well since she put it that way, I rolled over again. A few seconds later I hear, "ok maren, i'm getting you out today. hold on." Then in Maren's cute little voice I hear, "O tay Rirey. Be tareful." Then came a very loud thud, then giggling. Ok, we're good. I'm stayin.

At 9:15, another tap on the back from Maren saying she is thirsty. But she didn't hover, she just ran off. I thought about getting up at that point. But I figured she must not be that thirsty if she's not going to tell me 30 times. So the darkness of my room and the sound of children quietly watching TV made it so tempting to roll over yet again. So I did.
When the sound of peaceful TV watching turned into the sound of the WWF Junior League in my family room, I could not ignore my parenting responsibilities any longer. So I got up. But I really didn't want to.
(I like to think it still counts as sleeping until 10:30 even if I was interrupted every hour or so.)
((I choose to believe it does, because I haven't slept without interruptions in eight-ish years.))
So I figured, since I slept through breakfast, I might as well continue the trend of supreme parenting that was taking place today, and I hopped in my car and got everyone McDonald's. It was a brunch of happy meals.
I think I'll even follow it by a day spent in my pj's.
It's going to be a good day.