June 2006
We went to Nauvoo, IL to see Carly, Cameron's super cute sister, who was serving as a performing missionary. We met his family there to tour the city and to see some of her performances.




We left Nauvoo and drove up to Chicago to spend a few days there. I was ( I think ) 6 months pregnant with Maren and have never in my life been hotter! (temperature hot) It was hot and humid, which is so not the right kind of combination no matter what, but when your pregnant...oh man! We walked every where, went to every museum we could and saw as much as we could see before we came home. Right before we left to drive home, we went to Navy Pier and played around there for a few hours. We saw this fountain and stopped and let the boys play. We didn't have swim suits for them, so we took their shoes and shirts off and let them go. Every time the water would shoot out from the ground, Coleman would have the same face of "surprised excitement".




They played for about an hour, just running circles around the fountain. While we were sitting there, we started hearing laughing from around the whole square. EVERYONE was laughing and pointing. We started to look around to see what had caught everyone's attention. As we figured it out, I remember saying to Cameron, "Ah crap, that's our kid." Coleman's shorts had gotten so wet and heavy, they started to fall down. The best part was he had NO idea what was going on. He was having too much fun. We just kept letting him run around, he was giving such a good show.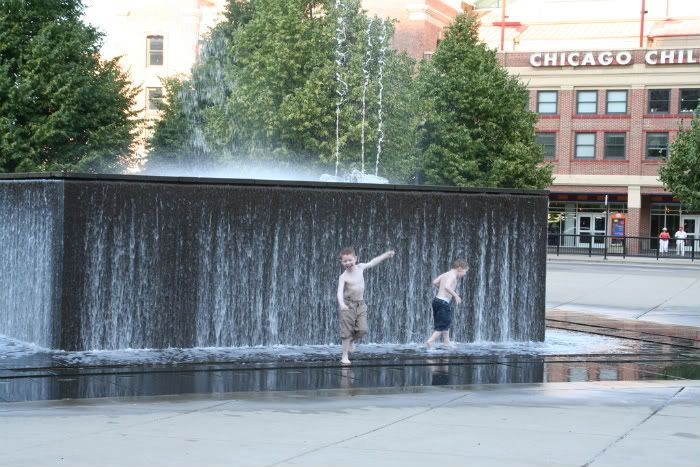 It was on this trip that we figured out that we are NOT good long distance drivers. We got about 90 miles out of Chicago and didn't want to go any further, so we stayed in South Bend, Indiana, just down the road from Notre Dame Univ. We got to see another big landmark. It was a fun trip, but whenever I think of going to Chicago, I always think of Coleman's little bum hanging out of his shorts.