Sunday night while Cameron and I were watching TV, we went through the shows for the week to record all the stuff that we wanted to watch. ( Is it possible to watch live TV anymore? ) I saw that Ghostbusters was on, so we recorded it for the kids to watch later on.

We all cuddled up on the couch to turn on our show. I told the girls that when I told them to, I wanted them to cover their eyes. Do you remember which part I was worried about? The part in the library at the beginning. If you don't remember, go watch the whole movie. It's a classic and has the most quotablity. (I just made that word up) OK, it's a tie with Tommy Boy. Quotes like "Llisten. Do you smell something?" or "mother pussbucket" or "Ray, when someone asks you if you're a god, you say "YES"!" or how about "I feel like the floor of a taxi cab." And Cameron needs to remember this one. "Back off, man. I'm a scientist." So many good ones. But back to the story.

The part in the movie comes on and Maren immediately covers her entire face with her tiny little hands. She was very obedient. I look over at Riley and she has her entire arm over her face. But where her elbow bent, she had a little peep hole to look through. She saw the whole thing.

She quietly watched the rest of the movie, laughing at the funny parts and was pretty much glued to the TV. We all had a great time. Until it was time to go to bed. That's when everything fell apart in her little world. She could no longer go upstairs by herself. Go in her room by herself. Go to the bathroom by herself. She couldn't even pull her pajamas on over her head because that would mean she wasn't looking forward to see what was going to pop out in front of her.

I finally got her into bed and as I was leaving, she asked very sweetly if Zack could sleep with her so she wouldn't be scared. (she has our old queen bed, so there is room to spare) He very willingly went in there, excited to be the hero and protector of all. I hid behind the door to watch and listen to see how he handled his new popularity and what she did in her "damsel in distress" roll. He talked to her and told her it was going to be OK and there were no such things as monsters or ghosts and that she didn't need to be scared because he was there. It was very cute.

After a little while, I went to check on them, make sure they had gone to sleep, and to see if Zack had been pulled into one of Riley's evil plots. But, what I saw when I went in made my heart melt a little. They had fallen asleep like this.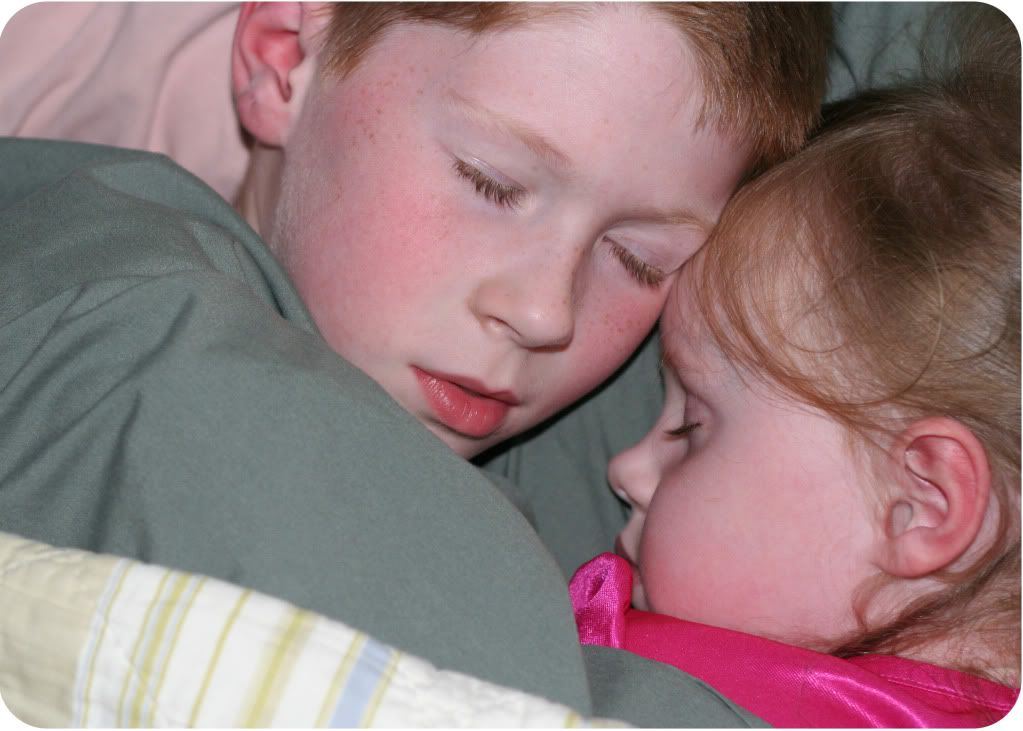 I told Cameron to go in a look at them. He stood there watching them. Then as usual, he had to climb up in there with them. To him, a perfectly still, happy sleeping body is to irresistible leave alone.

Next day, Riley asks if she can watch Ghostbusters again. I turn it on after the library part. She catches on to what I was doing and she says, "No, I want to watch the scary part again."